October is arguably Colorado's most colorful autumn month, but if you add in a glowing newlywed couple, it's without a doubt the most picturesque month! These Eldorado Canyon wedding photos are unique because they came from a post wedding day photo session. Gaby and Miles got married in Costa Rica earlier in the year, as that's where they're from, but they decided to do a post-wedding shoot surrounded by some beautiful Colorado scenery.
Not only was the couple glammed up in their wedding day attire, their dog Pancakes was dressed in his wedding day garb! The trio looked dapper as ever, and not to mention extremely in love. We can't speak for Pancakes but it's safe to assume he loves his parents as much as they love each other!
The intricate lace on Gaby's dress was only made more gorgeous by her delicate beaded belt. Paired with her wedding bling and golden shoes, she looked so beautiful! Miles looked striking in his navy blue suit. The black details on his jacket were great and easy for Pancakes to match his bowtie too. The men did a great job in coordinating the collars of their shirts, to say the least! We loved the shot of the newly wed's hands, plus Pancakes paw. It's always fun to see two people that love each other to the ends of the earth share that feeling with a furry friend.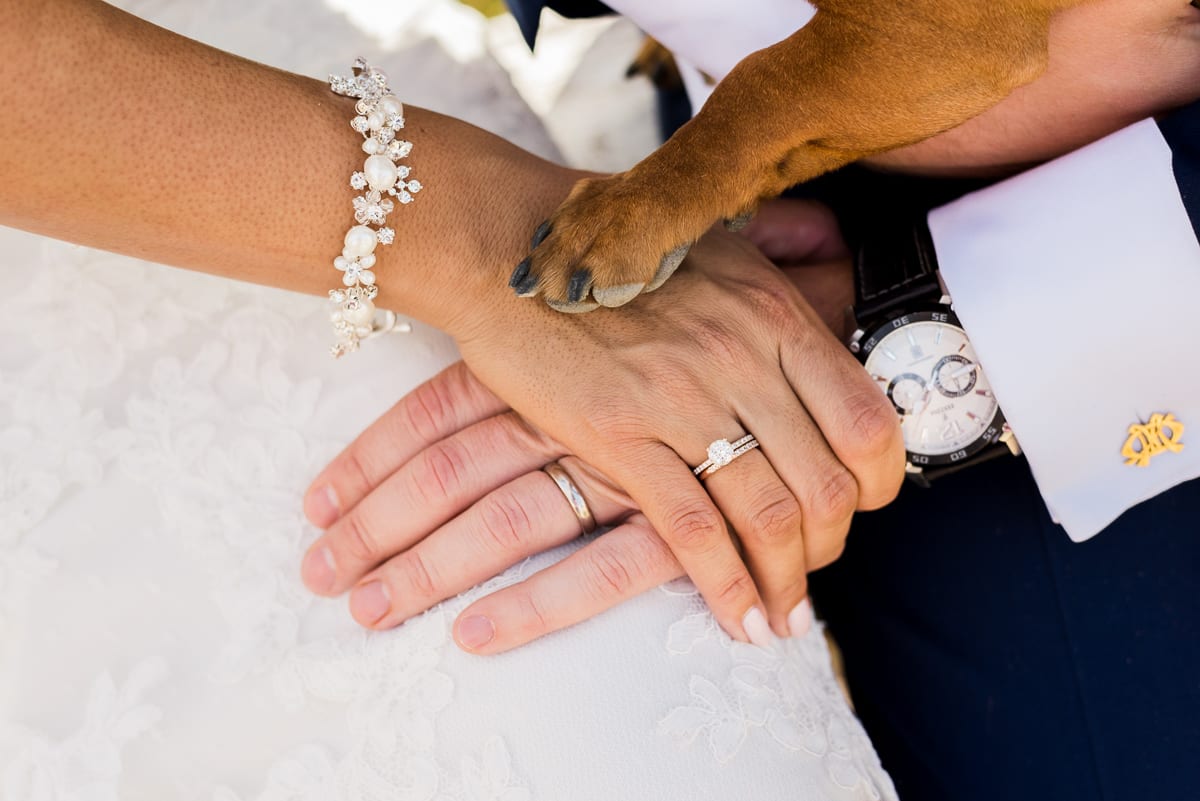 Getting all glammed up a second time is something to be mulled over, but it's definitely worth it! Trust us! Gaby was such a trooper, walking down Eldorado Canyon trails in her bridal gown. Miles was a trooper too in his tux! These Eldorado Canyon wedding photos were so much fun to take! This couple (and their little Pancakes pup) was extremely loving and fun, making our job all the easier! Congratulations to the newlyweds, wishing you all the best!