Having just moved into our studio space at Stanley Marketplace, we're so thrilled to be surrounded by so many incredible local businesses. It's a truly eclectic mix and we're fortunate to count most of them not just as neighbors but also as collaborators.
One of our longest-running partnerships is with the team over at Poppy & Pine, a unique floral shop that not only has bouquets to cater to any customer but also has the cutest selection of gifts. (Seriously: Mother's Day is sneaking up fast and we're not saying you're a last minute kind of person…but keep Poppy & Pine in mind if you wake up on May 14th empty-handed!)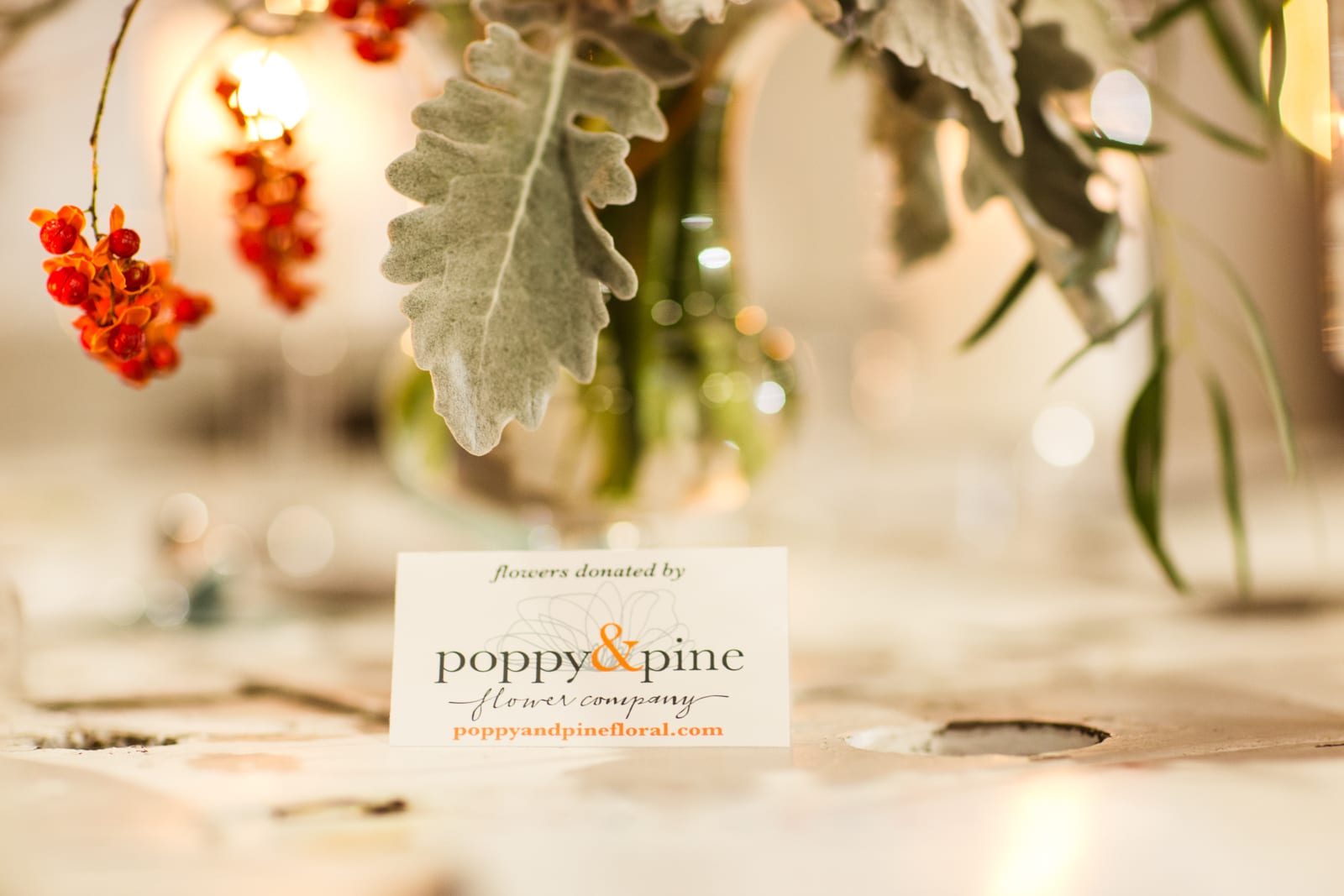 We've recently chatted with Suzanna, a floral designer at Poppy & Pine who creates jaw-dropping floral arrangements. Not only did she have great advice for wedding couples looking for a florist, she was super knowledgeable about all things flowers! It's safe to say she's one of the reasons why business at Poppy & Pine is definitely blooming.
How did Poppy & Pine come to be? Why flowers?
Poppy & Pine's goal is to make the community a more beautiful place, and flowers are the perfect way to do that!
What's the best advice you can give to a bride and groom-to-be looking for a florist for their special day?
Make sure it's a good fit personality-wise. Designing flowers is such an intimate thing to have someone, essentially a stranger, be a part of so it's best that you understand each other.
What's something you wish couples knew about their wedding florals before coming in to meet with you? Are there any trends, possibly from Pinterest, that need to be debunked?
Pinterest has gotten a bit out of control! It's useful… but it puts a lot of pressure on the bride and groom. It makes they feel like they need to have a certain image or style, which can make them stray from something that might be more personal to them. Unique is good! It's your wedding day, not a Pinterest wedding day!
Are there any arrangements in particular that have been your absolute favorite?
Yes! We did the flowers for the Best of Colorado Meetings and Events Dinner in The Hangar at Stanley. I used purple kale, and purple anemones, and hydrangeas. I love using things that are different!
What's the most unique arrangement you've ever made?
We recently did a food bloggers event in The Hangar where we incorporated local fresh fruits and vegetables into the florals. I used those multicolored carrots, limes, radishes, and swiss chard!
Do you have a personal garden or do you get your flower fix here?
Oh, I definitely get myflower fix here! Occasionally I have an arrangement at home, but it's like bringing work home!
What do you think is the most romantic flower to give?
Anything specific to the person, not one specific kind of flower. Everyone has some type that's always significant to them, whether that be their birth month flower or something like that. For instance, I'm obsessed with anemones, so if someone took the time to find that out, to me that would be romantic.
How do you feel about Kim and Kanye's flower wall from their wedding in 2014?
I'm not super impressed! Clearly, it took time and skill to make, but I've seen cooler! [Ed. note: shot's fired!]
To what do you owe your success?
For me personally, it's about passion and the support of the people around you. I switched careers from politics to flower design, and it's not a bad gig at all!