Formal wear and high heels couldn't keep this fun-loving couple and their guests from hiking through the Colorado heat to get the perfect mountain backdrop during their gorgeous Peaceful Valley Ranch wedding. Thanks for being such great sports, you all! This was a cozy, quintessential Colorado wedding and we were overjoyed to document it for them!
This Peaceful Valley Ranch wedding's purple accents weaved gloriously with the green grassy landscape of the venue, located just outside the Boulder, Colorado city limits in Lyons, CO. We couldn't believe the stunning views from the ceremony site and took a short hike afterward to capture the perfect mountain backdrop! Alaina and Lucas picked an absolutely ideal location for their intimate wedding, which was made even better by virtue of the tight group of friends and family. Everyone brought an infectiously upbeat attitude to the celebration. When the power cut out briefly at their reception, the newlyweds simply embraced the slight delay as an opportunity to take some more fun mountain pictures!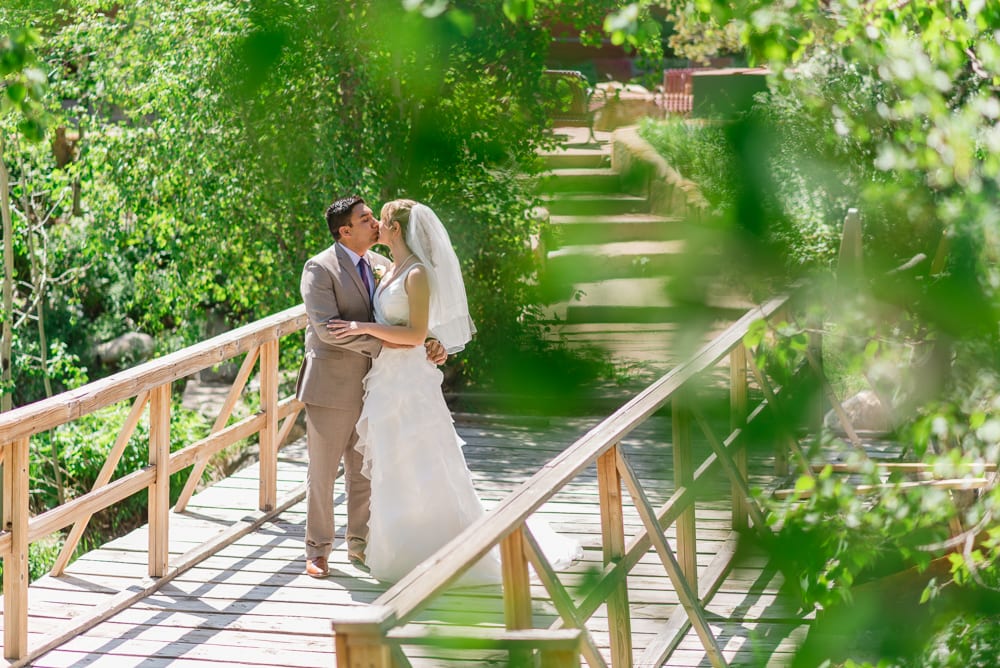 Alaina and Lucas' devotion and support for each other shone through during their secluded first look, which took place on a bridge overlooking the nearby river. Surrounding themselves with their closest friends and family on their big day, Alaina's bridal party included her sister as the maid of honor and the groom's sister. In lieu of a first kiss, the couple opted to do a First Communion together. The Communion was presented to the couple by their youngest child. The two other children also participated in the ceremony with the distinguished roles of flower girl and ring bearer. All three were very fashionably dressed in three-piece suits and an adorable white dress!
The rustic details of the reception worked perfectly with the sweeping mountain landscape. The party favors included lavender seeds for guests to take home and plant in their gardens! Framed photographic memories were lovingly displayed in the reception tent for the guests to enjoy and a photo album of the couple doubled as a wedding guest book for guests to leave their well wishes.
Friends secretly decorated the getaway car during the reception and sent the happily married couple and three adorable children on their way in a shower of bubbles! We were so happy they chose to share their special Peaceful Valley Ranch wedding day with us! Congratulations again to this magnificent couple and their precious family!
---
You might also like
---
---