Anji and Robert's wedding was unique and beautiful. Their stunning Indian garden wedding at the Denver Botanic Gardens was a mix of heartfelt moments and lively festivities because of the couple's outstanding personalities. We had the best time being a part of their special day!

The couple let their personalities shine through the entire day. When they weren't joking around, we were able to capture their real love and passion for each other. The gardens and incredible Colorado weather only helped to make what was already there even more breathtaking! The greens of the garden perfectly framed the couple without being too overbearing or distracting. A truly magical pairing!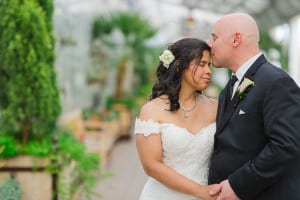 Before the ceremony, Robert and Anji were both a mix of excitement and nerves! But the ceremony went off without a hitch, and the couple was free to relax and have fun. Loving looks and smiles could be seen from everyone as they were pronounced man and wife and the newlyweds walked down the aisle.
After the ceremony, the couple and their guests really let their fun sides show. With funky yet gorgeous wedding decor, guests wearing balloon hats, and tons of dancing, the reception was a blast! One of our favorite moments took place early in the reception when Anji sang a song to Robert. The groom was visibly moved by the gesture and all of the guests were awed by the song.
As part of their Indian garden wedding, Anji and Robert incorporated a traditional dance called Garba. All of the guests participated because it is designed to encourage the newly combined family members to get to know each other. The guests were taught an easy dance, which included clacking their Dandiya sticks with their dancing partner in time with the music. The dance also signified the couple starting their own new story together! What a sweet tradition!
As the perfect Colorado day faded into evening, the guests hit the dance floor. The energetic music encouraged even more people to join in and brought out smiles and laughs from those who weren't up to getting down. Many of the attendees were dressed in traditional Indian clothing, which meant the room was filled with the swirling colors of saris!
Anji and Robert's wedding was the perfect combinations of touching moments and playing around that make up the best weddings. Everyone had a spectacular day that was full of happy tears and laughter. Anji and Robert's Indian garden wedding was one of the best we've ever had the opportunity to be a part of!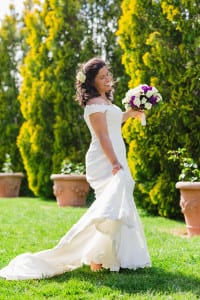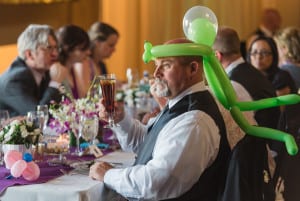 ---
You might also like
---
---