Is there anything better than spending the day walking around in the beautiful Colorado outdoors? We certainly don't think so! That's why we loved spending the day at Chautauqua with Laurel & DJ for their breathtaking engagement photo session. It was a perfect fall day for photos – a slight fall chill in the air, but still not too cold. Laurel & Dj looked great, but it t was clear to us that this couple would have taken great photos anywhere.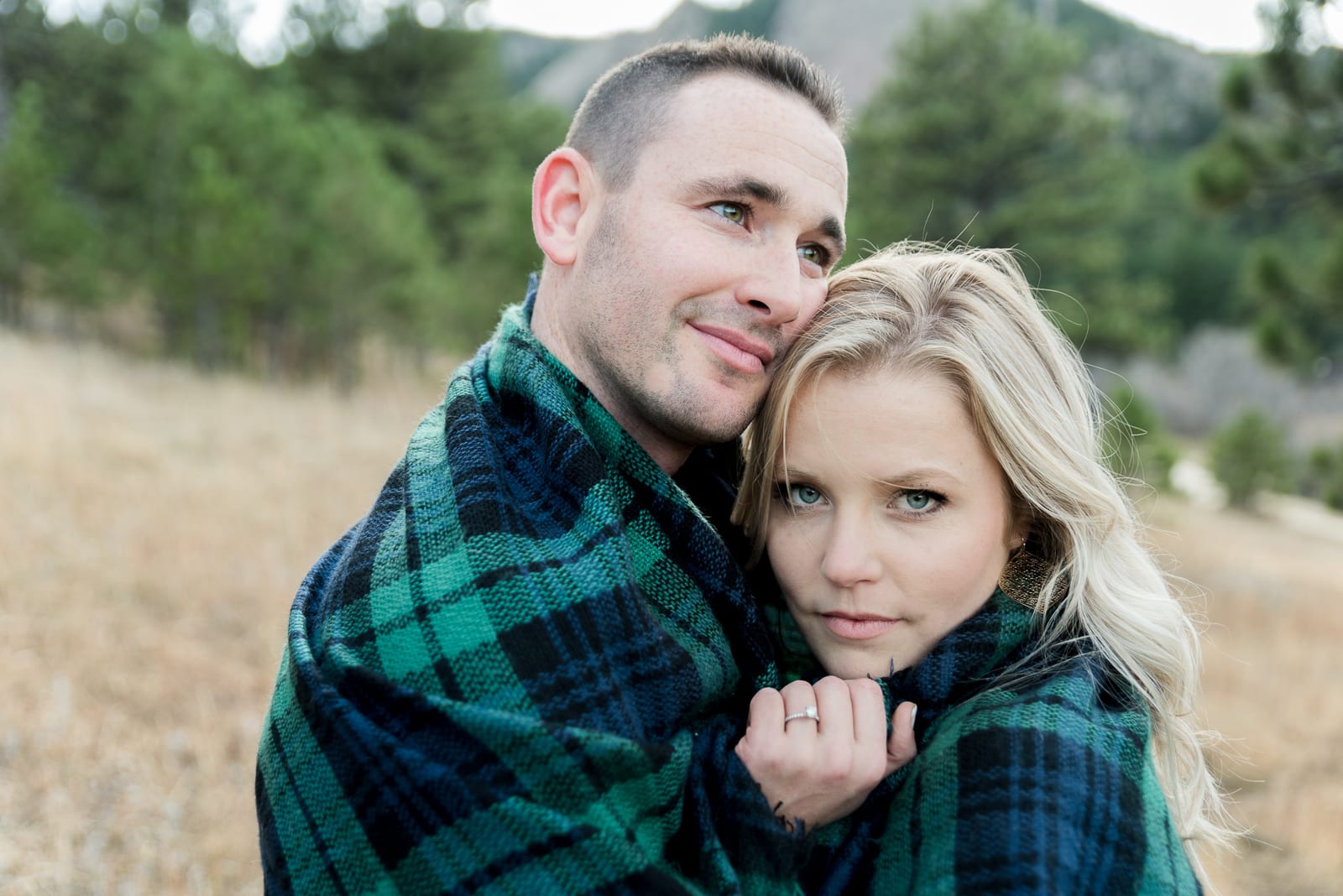 How They Met
Laurel & DJ's love story started as a summer flirtation. Laurel was spending the summer working as a camp counselor at a gym where DJ worked as a personal trainer. DJ bestowed the nickname 'Dash' on Laurel, a nod to the big Kardashian style sunglasses she sported daily. Every day that summer was filled with flirtatious banter and stolen glances. They lost touch when the summer ended, but reconnected 4 years later when a friend reintroduced them. From that day on, the happy couple was inseparable. The two often found themselves joking that when you find 'the one' you go on one date and then never leave each others side. And for this couple, it couldn't have been more true!

The Proposal
The couple had plans to buy Laurel's childhood home from her mother, who was ready to downsize. Laurel & DJ decided to take their dogs to the property and spend some time exploring their soon-to-be neighborhood. When they got back to the house Laurel took the dogs to the backyard for some off-leash play time. DJ told her he had to prepare a surprise for her and would meet her inside in a minute – little did she know that he was preparing a camera to film his proposal! Shortly after the camera was prepared, DJ called for Laurel to meet him outside. The two embraced in front of their soon-to-be home and DJ began expressing his excitement for them to start their lives together. Then he dropped to one knee and asked Laurel to marry him with a beautiful timeless ring! (Pro Tip: DJ researched Laurel's Pinterest boards to find the perfect engagement ring!) Laurel said 'Yes' of course! And the rest is history!

The Engagement Photos
Laurel & DJ looked great during their photo session. Laurel wore two outfits. First was a beautiful blue dress, that really stood out from the browns of the park. Second, she wore a cute cuffed pair of jeans and an off the shoulder white blouse. DJ matched her perfectly in his red plaid button up shirt, and his blue sweater. They both looked incredible. They even brought a cozy blanket to wrap themselves up in for cute, snuggly, photos! We loved spending the day with them and hearing their story!
Congratulations Laurel & DJ. We are so excited for you two to start your lives together!
---
You might also like
---
---