Once upon a time, Ben met Justin. Then, later that night, Ben went home and began to write. 'I just met the man I'm going to marry,' he penned down. Is there any sweeter way to start a love story? We certainly can't think of one! Ben kept his note a secret for years, until he revealed it to Justin, mere moments before the happy couple said 'I do!' 
The couple wanted a fun setting for their wedding day. They found exactly that at their favorite bar, Our Mutual Friend Brewing Company! Located in the RiNo neighborhood of Denver, there was no better backdrop for this artistic couple. The colorful facade of the building couldn't have been better for wedding photos! They also hung colored fabric decorations from the ceiling. As the sun began to set their decorations lit up to add a punch of color to the atmosphere, a fantastic expression of their fun-loving, artsy spirits!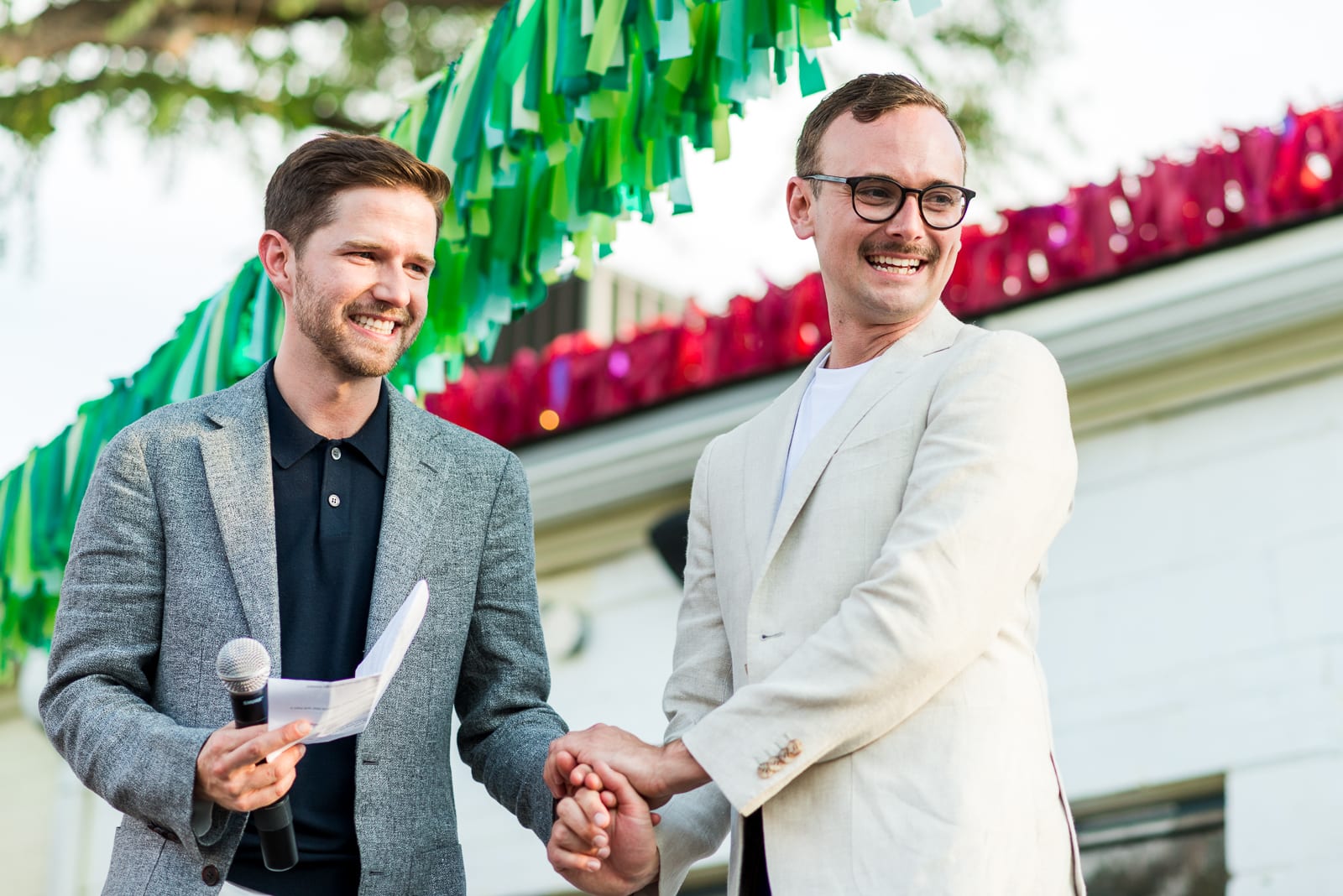 Ben wore navy pants, a white shirt, and a cream-colored sports coat. Justin wore white pants, a black shirt, and a light grey sports coat. They both looked incredible!
As if the couple wasn't the cutest, their venue and ceremony were flawless as well! Not a single detail was forgotten. The windows were lined with plants. Guests drank out of custom glasses that had the couple's names etched into them. Like any friendly bartender would, the bartenders at Our Mutual Friend wore 'Ben & Justin's Wedding' T-shirts! Even the little details were a celebration of the couple's love for each other.
Dance The Night Away
At the reception, guests dined on scrumptious foods, including mac and cheese, barbecue, and of course tasty beers! Ben & Justin's parents gave heartwarming toasts, which were absolutely unforgettable.
By the end of the night, Ben & Justin were dancing and singing on the bar. A great start to their happily-ever-after! Congratulations Ben & Justin; we can't wait to see where your story takes you!
---
You might also like
---
---