Maternity photos are unique in that they document a seemingly fleeting chapter in a woman's life: pregnancy. This couple from Texas and their handsome young boy all have one big thing in common…their family is growing! Also, might we add that they look extremely dapper in this winter wonderland maternity shoot?! From mom's bright dress to dad's debonair tuxedo, to their young son's vest and tie, they all looked incredible!
Jacque's red flowing dress with a long chiffon train channels her inner Queen Elsa while also showing off her adorable baby bump. Her curled up-do and beautifully bronzed smokey eyes paired perfectly with the striking color of the dress. Not to mention, all the bold contrasting colors made her bright blue eyes pop! Here at From The Hip Photo, we think that a mommy-to-be should never be afraid of being bold! Embrace the nine month chapter of your life with open arms!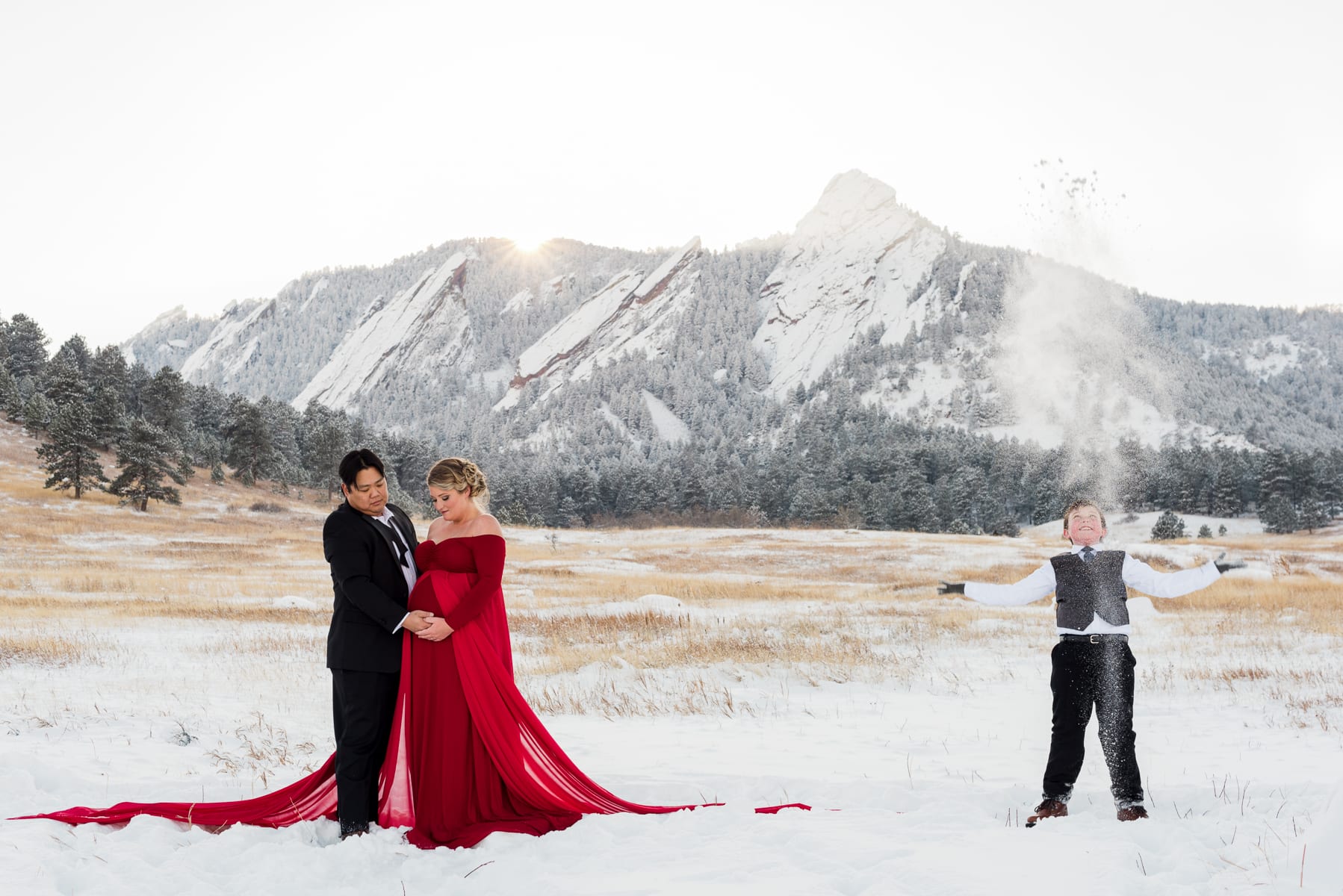 The backdrop of Boulder, Colorado's Flatirons– more specifically Chautauqua Park, is utterly breathtaking and perfect for a winter wonderland maternity shoot. Considering this family is from the Lone Star State that notoriously has days filled with record-setting heat, the snow was a fun addition for them. Even Braden and the pair's young son had fun throwing the icy snowflakes up into the air! The soft dusting of snow that flirted with outer space for a second before falling back down over the mommy-to-be and their playful son made for some awesome shots.
Braden's suit looked sharp next to Jacque's incredible red dress, but if you don't have a flowing Queen Elsa inspired dress or a chic tux, don't fear! You can check out our Pinterest board for color schemes and other maternity fashion for photo sessions. We're so grateful to Jacque and Braden for letting us be part of such a stylish winter wonderland maternity shoot! We can only image how fashionable their baby is going to be!
---
You might also like
---
---